xxxxx
Problemen (bij hypermedia) en oplossingen (parallelisme)
xxxxx
Iedere docent weet wat parallellisme is. Docenten gebruik parallellisme dagelijks, ook al is hij/zij zich dat niet permanent bewust. Is hij niet bezig met een sheet op een overhead projector, dan is hij wel bezig op het bord om snel even een berekening voor te doen. Hij heeft dan 'input' nodig van de sheet op de projector en rekent op het bord met die input tot er een output onstaat. Daarbij kunnen de leerlingen steeds vergelijken. Ook uit hun boek of luisteren ze - parallel aan alle visuele informatie - naar de stem van de docent of naar die van een mede-leerling. Dat vergelijken is - bij leren, bij werken en of bij iets doen - heel essentieel. Elke docent voelt dat soort dingen haarfijn aan.
Software engineers en andere computerjongens begrijpen dat echter vaak niet. Daarover gaat dit onderzoek. Software producten - en vooral hypermedia-producten en vooral web-sites met hyperlinks op het world wide web - staan vergelijken van twee dingen naast elkaar, vaak eenvoudigweg niet toe. Als je op de ene site gelezen hebt hoe duur een een paar schoenen bij de ene aanbieder is ben je al weer vergeten hoe duur het bij een ander web-winkeltje was. Bij het vergelijken van reisgidsen is het net zo. Bij leren - in leer-omgevingen - moet je dingen kunnen vergelijken. Zo niet dan faalt jouw software product al bij voorbaat!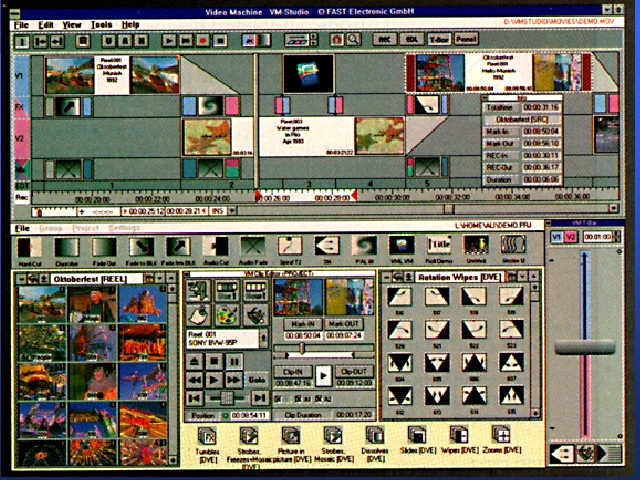 A working environment with everything you want (or you think you want) in view. This kind of parallelism (pan-optimum) is often desirable but seldom good enough for untrained people.
Our dailly life: A multi windowing working environment with 'second order parallelism' and three simultanious, a-synchrone applications - par example - a browser, a text processor an/or an mail system. This arrangement allows cutting and pasting texts on a naturally way.
References
Rik Min (1992),
Parallel Instruction, a theory for Educational Computer Simulation. Interactive Learning Intern., Vol. 8, no. 3, 177-183.
Rik Min (1994),
Parallelism in open learning and working environments. Britsh Journal of Educational Technology, Vol. 25, No. 2, pp. 108-112. ISSN 0007-1013.
Rik Min (1995),
Simulation Technology and Parallelism in Learning Environments; Methods, Concepts, Models and Systems. Book. Publisher: Academic Book Center (ABC), De Lier (1995). ISBN 900-5478-036-3.
Rik Min (1999)
Interactive Micro-worlds on the World Wide Web (based on research about the parallel instruction theory and the concept of parallelism). Int. J. of Continuing Engineering, Education and Long-life Learning, vol.9, no.2/3/4, p.302-314, ISSN 0957-4344.

Others:
Schaick Zillesen, P.G. van, F.B.M. (Rik) Min, M.R. Gmelich Meijling and B. Reimerink (1995),
Computer support of operator training based on an instruction theory about parallelism. Kluwer Academic Publishers (Eds: M. Mulder, W. Nijhof en R. Brinkerhof). ISBN 0-7923-9599-9. p.209-226.
Gritter, H. (Herman), W. (Wytze) Koopal and F.B.M. (Rik) Min (1994),
A New Appraoch to Computer Simulations; Interact, European Platform for Interactive Learning, Vol. 1, no. 2, ISSN 0929-4465.
Others (list)
---
Enschede, May 10, 2000